We can't quite believe it, but this year we are celebrating 20 years since our 1st vintage of Creu Celta from the stunning Salanques area of Priorat in north eastern Spain.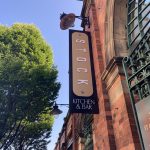 We kicked off the celebrations in style on Thursday 22nd June with a fantastic 4 course menu created by the talented Danny Millar to pair with our wines at Stock Restaurant (https://www.stockbelfast.com/ )
Arriving upstairs on a gloriously sunny evening reminiscent of Spain, we were handed a glass of chilled Conde de Caralt Blanc de Blancs Cava. Made from classic Catalan Cava grapes Macabeo, Xarel·lo & and Parellada, this is an expressive and full flavoured sparkling, which was a great way to start the evening.
Peter explained how the family had come to own a vineyard in Spain and whereabouts it is situated. His father Kevin had dreamed of owning a vineyard and they were able to make this a reality in 2003.
The first course was a beautiful Local Tomato Gazpacho, Ballyhornan Crab, Sourdough Crisps. This was paired with En Numeros Vermells Garnatxa Blanca 2021, which Neal explained, is made by our Creu Celta winemaker Sylvia Puig. Made with old bush-trained vines Garnatxa Blanca (Grenache Blanc), this white manages to be both elegant and rich at the same time. Aromas and flavours of pineapple, apricot, fresh peach, fennel and orange blossom shine through, leading to long and balanced finish.
Next was BBQ Spring Lamb Fillet, Slow Cooked Shoulder Stuffed Courgette paired with Creu Celta 2008. These were the last few bottles of our 2008 stock and it was a revelation showing both the ageing potential and complexity of Creu Celta. The blend for this wine was Garnatxa, Samso, Syrah,  Merlot. Balanced, rich and smooth it showed flavours of damson, plum, dark chocolate, liquorice and spice. This was an absolute treat!
The main course was a stunning slice of Peter Hannan's Glenarm Shorthorn Cote de Boeuf, Potato Terrine, Roast Red Wine Shallots with Creu Celta 2019. This is our current vintage it is a blend of 89% Garnatxa, 9% Samso & 2% Syrah.  Rich, complex and full bodied, opulent dark spicy fruit flavours are lifted by a fresh finish. It recently earned a Silver Medal at the International Wine Challenge 2023 "90/100. SILVER MEDAL. Bold style with juicy fruit & also chocolate, fudge & woodsmoke. Full-bodied & rich in style."
Our final course was Young Buck Blue Cheese, Local Rhubarb & Almond Tart with Terra Sagrada 2019. The Terra Sagrada is our 2nd label it is a tiny production of 100% Syrah and this is only the 2nd vintage produced. Full and rich with dark fruit flavours. Sweet blueberry and savoury black olive notes are underpinned by smoky and mineral nuances. This is a blockbuster of a wine.
We finished the evening with a toast to Kevin McAlindon and as Oz Clarke said of our first vintage "Congratulations on your Priorat venture. Good old Ulster restraint mixed with Celt indulgence. Keep up the good work."
Keep a look out for more celebrations and events in autumn 2023!