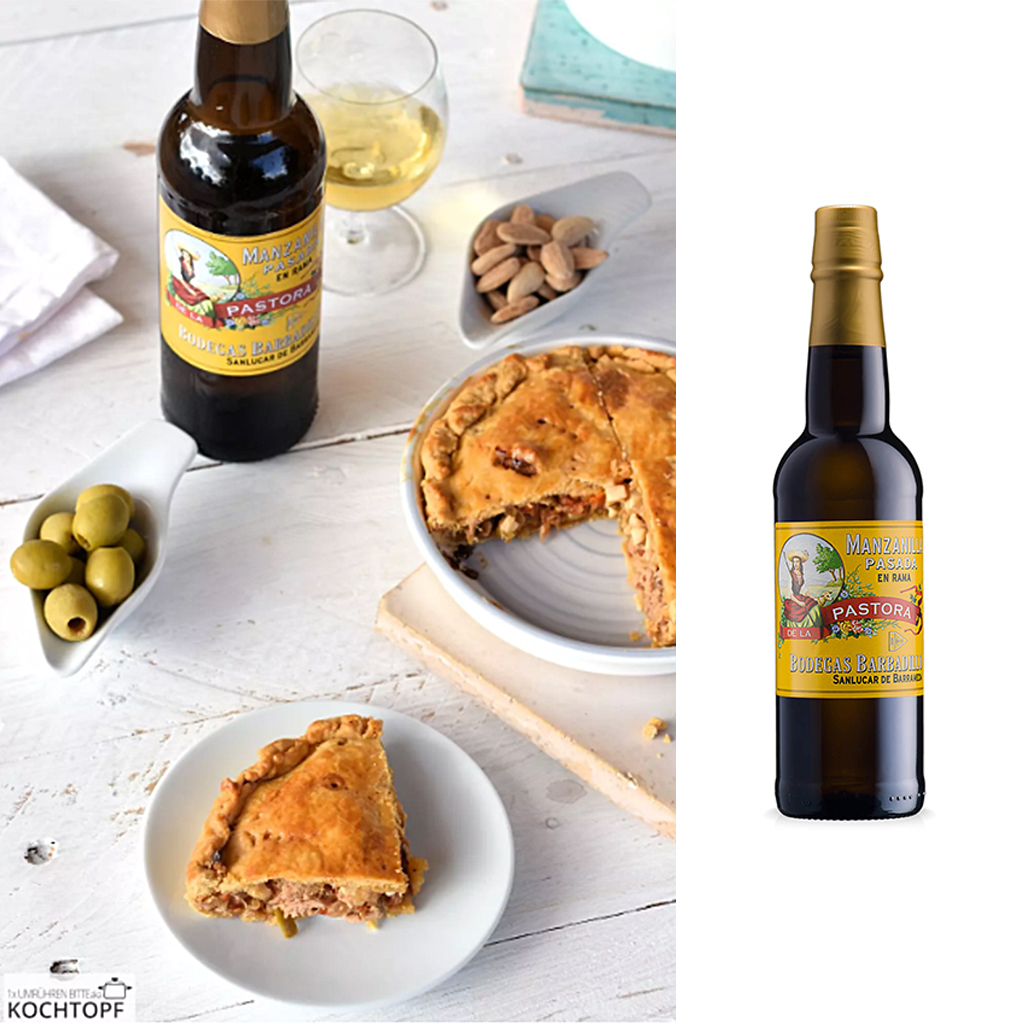 New Recipe + Our Recommended Wine
Pairing Manzanilla with Food
Manzanilla combines perfectly with fish and seafood, as well as with salted fish and cured meats.
Thanks to its low acidity, it is, together with Fino, the perfect choice to accompany salads, cold soups and dressings.
Manzanilla fast facts:
Always serve very chilled
Use an ice bucket with both ice and water to serve chilled between 6 & 8º C.
The wine of the sea
Perfect with fish, seafood and all styles of food from the sea.
Style of Glass
In traditional wide rimmed catavinos or in a white wine glass.
Ingredients & Method
Tuna Empanada with Manzanilla Pasada Pastora
Pair with Manzanilla
Recipe created by Zorra Vom Kochtopf for the International Sherry Week Blog Contest 2019.
1/4 teaspoon baking powder

1/2 tsp Pimentón de la Vera dulce

30 gr. Manzanilla Pasada Pastora

1/4 onion, finely chopped

1 small garlic clove, finely chopped

1 tbsp Extra Virgin Olive Oil

1 small shot of Manzanilla Pasada Pastora

1 small tin of tuna in olive oil

1/2 boiled egg, finely chopped

1 Salt and pepper to taste
Sift the flour, baking powder and Pimentón de la Vera dulce into a bowl.

Add salt, olive oil and Manzanilla Pasada Pastora. Knead by hand to a smooth dough. Let it rest covered until the filling is finished.

Sauté the onion and garlic with 1 tablespoon of olive oil in a frying pan.

Increase heat, add hot peppers and olives as soon as it is hot with a dash of manzanilla. Let the sherry evaporate. Put everything in a bowl and allow to cool slightly with salt and pepper to taste.

Add tuna and boiled egg. Mix everything well.

Halve the dough in half and roll out a little on a small amount of flour.

Place one half in an oiled dish.

Distribute the filling evenly. Cover the whole with the other half of the dough, close the edge.

Brush the empanada with egg and prick it evenly with a fork, then sprinkle with egg again.

Put into the basket of the cold hot fryer and bake at 160 ° C, then increase the temperature to 200 ° C and bake for 5 minutes. Bake in the oven at 200 ° C for 25 to 30 minutes or until the Empanada is golden yellow.

Serve with a glass of ice-cold Manzanilla Pasada Pastora. The Empanda tastes great lukewarm and also very cold.