We have dabbled with Romanian wines for a number of years and when the opportunity arose to take a trip there, we were intrigued. I am so glad we decided to accept the invite as we had one of the most interesting and enriching wine trips ever!
We were the guests of Cramele Recas in the south west of the country, very close to the Hungarian and Serbian borders, and centred around Romania's third largest city, Timisoara.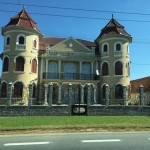 The city of Timisoara is steeped in history, from the Romans to the Ottomans, to the Habsburgs to Soviet control.  It also is the birthplace of the Romanian revolution in 1989, and the pain and conflict is clearly marked on the historical buildings around the city. One of the unexpected delights was being introduced to the beautiful and musical Romanian language. With its clear Latin roots, it sounded at times like Italian then Portuguese then Spanish.
Back to the wine…
The estate is the brain child of Bristol man Philip Cox and his wife Elvira. They have invested £30million over the last ten years in the winery, ensuring that they have the most up to date technology and equipment to make their wines.
Firstly we had a to
ur of the vineyards of Minis (Transylvania). Philip drove us in his space age Tesla electric car, 0-60 in 3.2.seconds! We were then taken by a very different mode of transport – in a cart pulled by a tractor through the tracks in the foothills of the Carpathian Mountains! The scenery was breathtaking.
Here we first came across the indigenous varietal Feteasca Neagra, a red grape varietal (literally translates as 'little black maiden'). It reminded us of Bierzo's Mencía, Chianti's Sangiovese, and Grenache, with an abundance of red and black fruit with minerality and bite.
We will be bringing in some straight Feteasca Neagra as well as one blended with Syrah.
Then we went to the winery where Recas employ winemakers from Australia, Rioja, South Africa and France to produce their exceptional wines. This estate has a history of wine making dating back to 1447. Quite incredible!
Here we were introduced to the native white varietal Feteasca Regala (the white version of Neagra, meaning 'little white maiden'). It has similarities to Muscat, Gewurztraminer and Viognier, with pungent aromatics of citrus fruit and slight spice. We can't wait to add this to our range too.

All the main international varieties are produced but the surprise was the quality, especially considering the price, of their Pinot Noir (one of the most difficult varieties to cultivate). It has the classic compote of red fruit notes with a hint of toast from oak ageing. Also worth considering is their white Pinot Grigio, with its clean but luscious apple and lemon fruit notes. You can find these in Belfast under the Cosmina label.
Whether you are in to wine or culture (or both), we recommend a visit to this part of the world!
Neal & Peter McAlindon
[nggallery id=16]