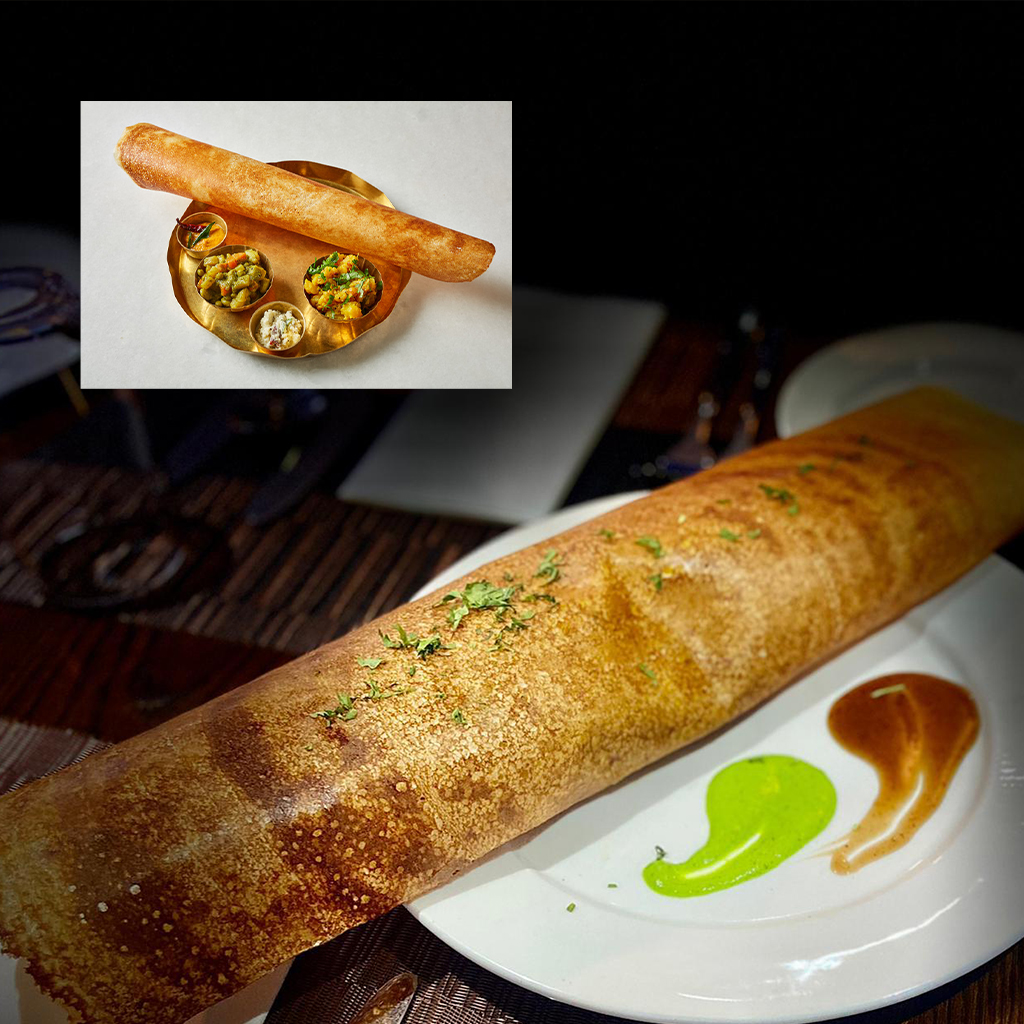 New Recipe + Our Recommended Wine
Masala Dosa by Bites of India
(Ravenhill Rd + Botanic Avenue)
500g of short grain rice, ideally dosa rice or 'parboiled' rice (which can be bought in specialist Indian grocers)

1/2 tbsp of Fenugreek Seeds, (Methi)

Vegetable Oil, for drizzling
1 1/2 tbsp of Vegetable Oil

1 Green Chilli, finely chopped

1 whole dried Kashmiri Chilli

1.5cm of fresh Ginger, finely chopped

1/2 Onion, finely chopped

250g of Potatoes, boiled until soft, then peeled

Fresh Coriander, chopped, to serve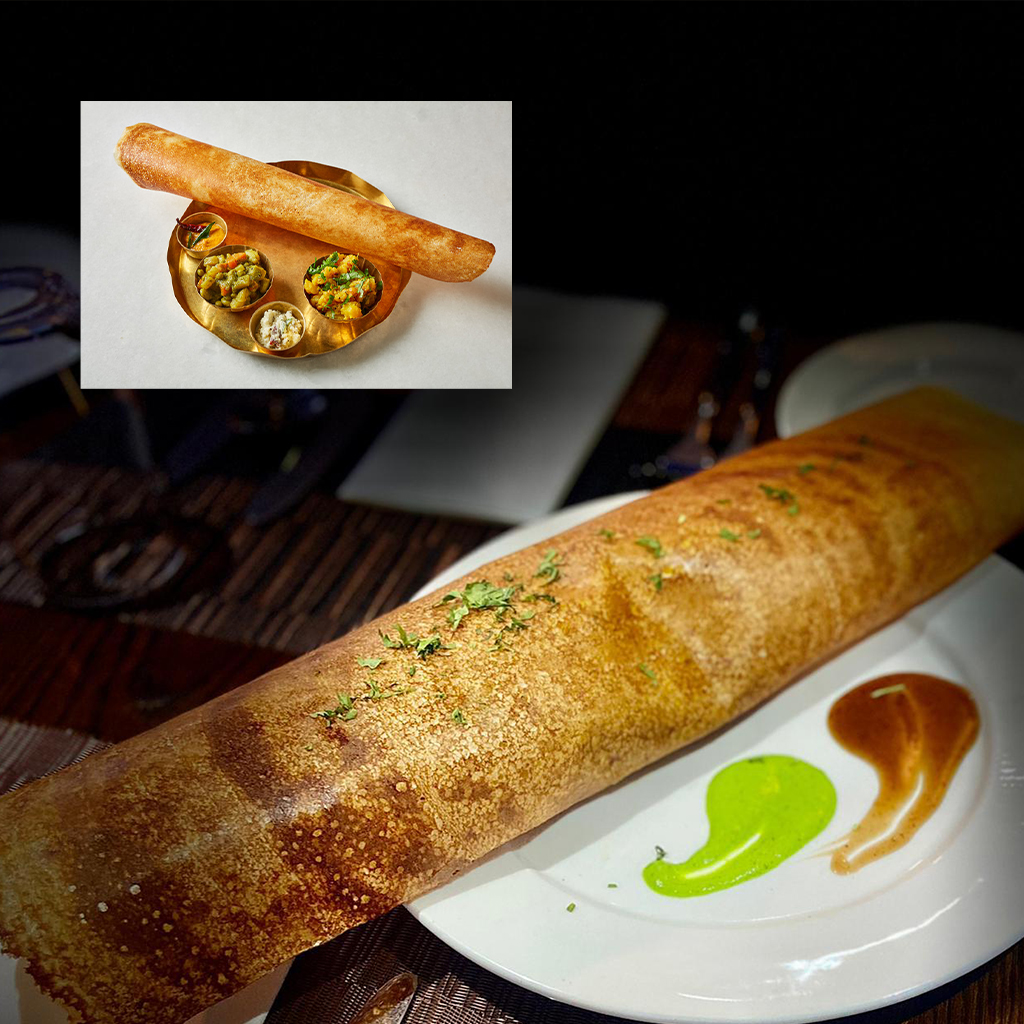 Begin with the dosa batter 6 hours in advance. Wash then soak all the dosa ingredients (apart from the salt) in cold water for 6 hours

◦ 500g of short grain rice, ideally dosa rice or 'parboiled' rice (which can be bought in specialist Indian grocers)

◦ 125g of urad dal

◦ 1/2 tbsp of fenugreek seeds, (methi)

◦ 1 tbsp of chana dal

After this time, strain the ingredients and place in a blender. Add a little fresh cold water and blend until smooth, slowly adding more water if needed – you want it to be the consistency of double cream.
Transfer to a bowl, cover loosely and leave at room temperature to ferment overnight. It ferments better in a warm environment.

To make the masala, heat the vegetable oil in a pan and add the mustard seeds until they begin to crackle. Add the urad dal and chana dal, both chillies, the ginger and curry leaves and cook for a minute, but be careful not to burn

◦ 1 1/2 tbsp of vegetable oil

◦ 1/4 tsp mustard seeds

◦ 1/4 tbsp of chana dal

◦ 1/8 tbsp of urad dal

◦ 1 green chilli , finely chopped

◦ 1 whole dried kashmiri chilli

◦ 1.5cm of fresh ginger , finely chopped

◦ 1 sprig of curry leaf

Add the onions and cook over a medium-low heat until soft then add the turmeric and cook for a final minute.

◦ 1/2 onion , finely chopped

◦ 1/4 tsp ground turmeric

Crush the boiled potatoes – do not mash completely as you still want some texture.
Add the crushed potato to the pan and mix to combine evenly.
Taste and season with salt. Set aside to reheat before serving or keep warm.

◦ 250g of potatoes , boiled until soft, then peeled

◦ salt

To cook the dosa, heat a very wide non-stick or cast-iron flat pan until it starts to smoke.  Turn the heat down and add a ladle of the batter, spreading it evenly on the pan in a circular motion using the back of the ladle.

Drizzle a bit of oil and salt over the batter and cook until the dosa is golden in colour. Flip it over and cook for a further minute.

◦ sea salt , to taste

◦ vegetable oil, for drizzling

Serve up immediately on a tray with the masala potatoes sprinkled with coriander along with a selection of chutneys and curries.

◦ A selection of chutneys, pickles or other Indian vegetable side dishes

◦ fresh coriander , chopped, to serve
SERVE with a selection of chutneys, pickles or other Indian vegetable side dishes
The Mönchhof (the "Monks House or Monks Court"), formerly a possession of the Cistercian Abbey at Himmerod, is one of the oldest wine estates in the Mosel valley.
This is one of the few vineyards in the whole wine growing region planted on volcanic soil in combination with red slate soil (rhyolithe).  You can only find this rare combination of soils in this part of the Mosel valley.
Mönchhof Salve Riesling 2021
An off dry Riesling with spicy notes of red currant, green apple and grapefruit, on the palate slight fruity sweetness balanced by a refreshing acidity, very quaffable.
Pairing suggestions: The Salve is a wonderful pairing to the Masala Dosa or a companion for tender veal, trout or salad with turkey. But most importantly, it is a stunning aperitif!
100% Riesling.  11% Alc.